Autonomous Canyoneer
The autonomous canyoning course is the perfect start to launch you in this activity. It will give you all the knowledge necessary, to be able to explore all the moderate risk canyons in the world (V3 A3 II).
The objective of this program is that your able to organise a canyon trip of moderate risk and to independently progress in these canyons while ensuring the safety of your teammates and yourself. It will boost your problem-solving ability and to tackle unexpected problems during canyoning. From dealing with the weather to launch a rescue in a canyon.
Included services
Collective and individual equipment
Pick up from airport (Podgorica or Tivat)
Transport to canyons
Coffee and snacks during class
Online courses + autonomous canyoneer's manual (digital version)
Topo guide of local canyons
Insurance
Fireplace and beer 😉
Not included services
Lunch during the day
Travel expenses to Montenegro
Drinks during dinner
Full package is advised for your own comfort and time saving. Contact us for more details
brief description of a "moderate risk canyon" follows: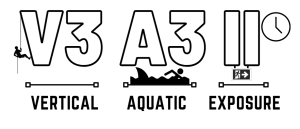 It must have simple escape routes that do not necessitate the use of protection or progression equipment, as well as no dangerous variations in water flow. Verticals in the canyon should not exceed 30m, and swims should be no more than 30m. Aquatic features should be low that don't create dangerous water movements. The total duration of the trip should not exceed 4 hours, allowing for flexibility in the event of an emergency or unforeseen event.
With a maximum of 6 trainees, you will be offered an 8/10-day course. This course is broken down into pre-training days (free online courses), 8/9 days of practice (indoors, on cliffs, rivers, and canyons), divided into 4 modules, and 1 day of customized "Clinic."
Programme

Online course

General knowledge

basics of canyoning
importance of hydrology, weather and geology
preparation of a tour
optimize safety

Module 1

preparation for trip – vertical progression

preparation for outing
adjustment personal equipment
knots
physics (fall factor, ….
rope progression (on cliff)

module 2

whitewater and rescue

Understand hydraulic principles to detect dangerous water movement and to make the correct
decision
How to move in swift water
How to rescue and assist one

module 3

equipment and escape

Master techniques on rope (in canyon)
How to jump and slide
How to equip a canyon
How to escape

module 4

Improvement and clinic

Master your techniques
Optimize decision-making ability
How to work in a team
rescue on rope
Demonstrate your new abilities by progressing independently during a canyon descent while ensuring the safety of your teammates and yourself (3.3.III)
Prerequisite:
Age of minimum 18
Have completed e-learning pre-training course.
Be in good mental and physical condition.
Swimming ability 50m and running 500m.
Medical certificate issued less than three months prior to the training course, testifying that the trainee is physically and mentally fit for canyoning activities.
Details course
Maximum number of trainees: 6
When: 05/06 -13/06 june 2023
Duration: 3 days e-learning + 9 days in training
Material provided:

2-piece neoprene wetsuits (5mm)
2-piece neoprene wetsuits (5mm)
2mm lycra/neoprene t-shirt
canyon anti-slip SHOES (from 35 to 48)
neoprene socks (5mm)
helmet
canyon harness with double lanyards
Pyrana canyon descender on "car" carabiner -lock"
complete rope ascent equipment
equipment carabiners
waterproof bags…

educational material provided

E-learning
References and powerpoints
Autonomous canyoneer manual (500 pages)

Material to provide

E-learning
o Swimsuit and change of clothes
If necessary: attach glasses
Long hair attached
Energy bars, drink bottle, …
Accommodation, breakfast and dinner
Our facility It's in the small village of Žukovica. It has a small population of about ten people and is located away from the crowd. The hotel is located high up the mountain, facing the Adriatic Sea, providing a breath-taking view from your room. We have several rooms, each with its own bathroom. There is also a public kitchen available for cooking, as well as a fireplace with the necessary BBQ if needed.
In the village, you can also meet the locals and taste their home-made wine and Rakia (local Liquor), and there is a local restaurant where you can dine. It's a little higher in the village, so the view is even better than from your room. The dinner is entirely homemade and consists of three courses.