Day 4: 
Option 1: Trekking JAMURI – ULCINJ.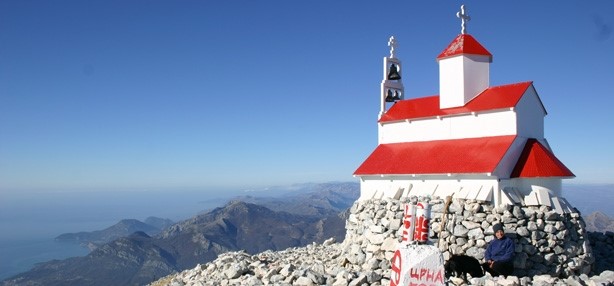 Early morning hike to the dominant peak of the Montenegrin coast. We will arrive at the top of Jamuria at about 1600 meters, which separates us from the lake of Skadar and the sea. Stop and picnic at the small summit monastery. 
Break around the old abandoned town of Stari Bar.
5h walk, +600m, -600m
We continue south to Ulcinj. Cervantes is said to have been imprisoned here, a prison that is now a hotel overlooking the small cove of MalaPlazha. While discovering the old city, as soon as the heat becomes strong, you can continue towards the magnificent thousand-year-old olive grove of Kaladanos and its beach that will leave no one unmoved, or MalaPlaza just under the city, or the VelikaPlazha, with 14 km of sand for the moment still wild and remains without houses and barely any traces of human activity.
OPTION 2 : COOL Trekking at 1 200 m
In the morning, a short hike to discover the southern part of the Montenegrin coast and the lake of Skadar. 3 hours of walking, 400m of difference in altitude.
In the afternoon, you will  discover Stari Bar, the ancient Venetian city, then Turkish, today deserted of its inhabitants and yet very interesting for its architecture.
Accommodation : 4th night in a guesthouse, half board.